Prince Andrew's photos with Jeffrey Epstein are fake, Andrew's Royal friends claim
Prince Andrew's close friends in Buckingham palace have employed a forensic team to analyse whether the  two viral and widely publicised photographs linking the British Prince Andrew's to disgraced financier and alleged underage girls trafficker Jeffrey Epstein, this royal friends of prince Andrew believe those photos  were doctored as part of an elaborate "stitch-up" scheme, according to a report published recently.
The shadowy Unidentified friends of the Duke of York told London's The Sunday Times that they hired specialists to determine if one photo—showing Prince Andrew with his hand around the waist of then-17-year-old Virginia Roberts Giuffre, as Epstein's alleged madam Ghislaine Maxwell stands behind them—was faked.
They claim Prince Andrew's hands in the photo aren't "chubby" enough. They also pointed out that the photo shows Andrew and Giuffre around the same height, when in reality the prince is about nine inches taller than Giuffre.
"Prince Andrew does not recognize the photo. And the more you look at it, the odder it gets," an unnamed source told The Times. "The Duke is 6ft. Virginia Roberts Giuffre is 5ft 3in. There are certainly not nine inches between them. There is something decidedly wrong about it."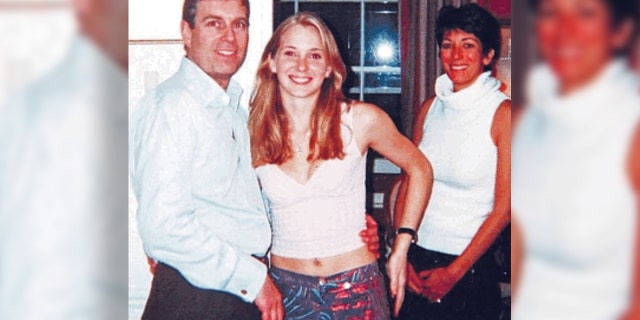 Giuffre, now 35, claimed in her first televised interview on "Dateline NBC" in September that she had sex with Prince Andrew in 2001 when she was 17 at Maxwell's London townhouse. She said Maxwell, who recruited her as Epstein's "sex slave," also propositioned her to the prince despite the royal knowing her age.  Prince Andrew has vehemently denied the allegations.
The source said an analyst already claimed it was strange that Giuffre in the photo with Prince Andrew is wearing the "exact same outfit" she was when photographed two months later at a party in Saint-Tropez with supermodel Naomi Campbell.
The second photo in question shows Prince Andrew walking with Epstein in New York City's Central Park in 2010. The members of his inner circle said Andrew traveled to New York in 2010 to break off his friendship with Epstein when he was first accused of sexually abusing underage women. They claim Epstein orchestrated the photo to incriminate the prince.
"When they went for that walk, it was a random act," the source told The Times. "The protection team never saw a photo being taken. The only way that it could have been taken is from a height. It is taken from an apartment looking down on the park. They were waiting."
"It was pre-planned. Only Epstein knew where they were going to walk. The duke had no idea where he was going," the source said.
Usain Bolt Offers Sha'Carri Richardson Some Tough Advice Following Multiple Meet Losses
[ad_1]

Jamaican sprinter Usain Bolt is offering some words of wisdom to rising track star Sha'Carri Richardson following the young athlete's fall from grace.
During a recent interview with the New York Post, the eight-time Olympic gold medalist was asked about the 21-year-old whose stellar performance in the U.S. Olympic Track and Field Trials at the new Hayward Field in Eugene, Oregon, last June was quickly overshadowed by a series of incidents, including a failed drug test, which subsequently got her disqualified from the Tokyo games entirely.  
Bolt told the media outlet that the best thing the Texas native can do now is stop talking and focus on what really matters. "I would tell Sha'Carri to train harder and to be focused and not say too much…," he explained. A much speculated lack of media experience ultimately led to a dim in her once fiery fan support. Many have expressed belief that the young star's trash talk proved damaging to her brand. 
"If you talk that big talk you have to back it up," Bolt continued. The Jamaican-born sprinting phenom added, "So just train hard and focus on that and try to come back, do it and then talk about it."
On Aug. 21, Richardson finished in last place in the women's 100 meters as Jamaica's Elaine Thompson-Herah dominated the race. Shortly afterward, an online feud seemingly unraveled between Richardson and Team Jamaican.
Bolt told the outlet he and his fellow Jamaican athletes were not impressed by Richardson's attitude, considering a rivalry between American and Jamaican sprinters that picked up some steam dating back to at least 2012. 
"Jamaicans were vexed because she was talking a lot of s–t before the actual race, it is just one of those things," he explained. "Jamaicans don't like when people talk s–t about us because we are a very proud people. So if you talk about us we are gonna want you to back it up. It definitely gave those women the extra push [to win.]" 
Richardson has had a few incidents with members of the Caribbean nation. She was offered an all-expenses-paid trip to Jamaica by a Jamaican hotel owner, following her loss to Jamaica's Shelly-Ann Fraser-Pryce, who finished second in the Prefontaine race. Many people online found the gesture to be disingenuous.
'You Have to Back it Up': Usain Bolt Offers Sha'Carri Richardson Some Tough Advice Following Multiple Meet Losses
TSRBrainGamez: Can y'all guess whose fresh mani-pedi this is, Roomies? (SWIPE)
TSRBrainGamez: Can y'all guess whose fresh mani-pedi this is, Roomies? 👀 (SWIPE)
[ad_2]
SWIPE and PressPlay to see the two moments everyone is talking about that happened at the end of the DondaEvent – KimKardashian came out in a wedd
SWIPE and PressPlay to see the two moments everyone is talking about that happened at the end of the DondaEvent – KimKardashian came out in a wedding dress and performed what seemed like a mock wedding or reconciliation with KanyeWest . Also, KanyeWest left the stage on fire. @applemusic
[ad_2]