The 15 Hottest Mums In Nigeria Entertainment Industry — #1 Still Banging After 4 Children
When you hear Viralmula.com just made a list of The 15 Hottest Mums In Nigeria Entertainment Industry you are Amazed and your interest piqued because it is hard for a woman, mostly an African one at that from Nigeria to keep that body tight and banging after giving birth, the pressure is even heightened on our female celebrities who are in the limelight.
We live in days of womb watchers pre-pregnancy and body police post pregnancy so our female celebs have been putting in work to look good and avoid ridicule and body shaming after putting to bed, well let's get down to our count down of  The 15 Hottest Mums In Nigeria Entertainment Industry, shall we?
15. Adaeze Yobo
Adaze or Mama yobo as shes called by friends  is one of the hottest moms out there now and shes also a former beauty queen
Adaeze is married to former Super Eagles captain Joseph Yobo and they have two kids together.
TOP TEN NIGERIAN BACHELORS IN ENTERTAINMENT
14. Annie idibia
The actress' has maintained her slim figure /shape  with time and she has successfully granted herself a placeon our listt as a hot yummy mummy!No wonder2faceis nothing satisfied with amaka this days.  these days.
13. Waje
If you were walking down your street and someone told you this Edo pretty songstress was 36yrs and has been a mother for the last 15yrs you won't believe, well our most beloved waje single handledly raised her 16yrs old daughter, she kept her voice nice and her curves banging, shes the real MVP Ooo
12. Genevieve Nnaji
Genevieve a mother for over  20 years, has kept it pushing and kept the bars high .While the rest of the world continue to look for a picture of her daughter, we will continue to in wizkids voice wonder wonder ahh in Genevieve's hotness!
11. Venita Akpofure
VenitaVenita Venita , who can forget this sweet video vixen that was the hottest thing since fried rice years ago, she was in almost every wizkid video back in the days , well she put to bed some years back and her body has remained banging she even gained some nice extra meat around the relevant areas .
Some of you might sit there and argue that all na genes which makes it all easy but we have to admit, all we care about is how amazing the hot mama has managed to become after birthing her baby, And that is what makes her a hot mom.
10. Lola Omotayo
Forget all that age difference talk that the public like to steer towards when this pretty woman's name pops up in a conversation, the woman is absolutely hot and there is no arguing that.
Note: Lola and Peter Okoye have two kids together Except you're saying the sun is not hot and it snows in Naija. You're not? Great, because this woman right here is one of the sexiest moms ever.
8. Caroline Danjuma

Baby Mama drama is not the only thing  Mrs Danjuma goes hard on. The mother of three also goes hard on that body of hers. Think curvy, think Caroline. Think sexy, think Caroline. Think MILF, think Caroline. Can I get an OsheyMi Lordey  in the house?

7. Tiwa Savage
Star boy dey here for you!! Lets forget the recent filings with wizkid, her amazing songs, the stupidity of her ex-husband, one thing we cannot forget is tiwas post-baby body , we are amazed at how she lost all the fat and belly in  a few months after putting to bed althouh we know teebillz lagoon stunts contibuted to hit we are still amazed joor.
Tiwa is definitely  worth her place on this list.
6. Busola Dakolo
Busola Dakolo is banging , after 3kids for timi dakilo she has maintained a sweet 16 figure, her husband tm i dakolo even admitted she was his inspiration for his hit track iyawo mi
No wonder Timi Dakolo sang his brains out for her in his hit song/music video, Iyawo Mi. It is good to appreciate good things.
5. Anna Banner
http://viralmula.com/2019/03/deadbeat-dad-offsets-baby-mama-shya-lamour-calls/
Another ex-beauty queen on our 15 hottest mum involved in Nigerian entertainment business. Anna is only 20 years old and is a mother… As a beauty queen she has done her best to get her body back.
We expect to see her to grace magazine cover speedy soon. I mean look at that body!
4. Juliet Ibrahim
The list of thick curvy Naija Actresses is not complete if her name is not mentioned, well she is a mother of one and has painstakingly maintained her figure 8 shape over the years
She broke off her wedding to Kwadwo Safo Jnr. in 2013
3. Mercy Johnson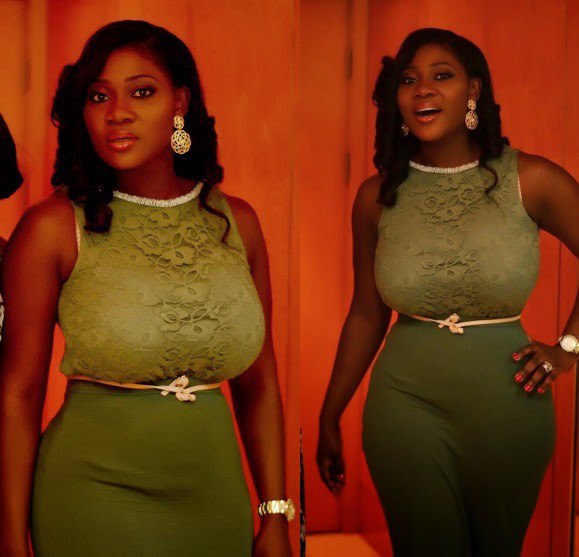 After getting married a couple of years back to an Edo prince and relocated to Edo state , the kogi born actress known for her thickness has managed to maintain her banging figure and keep it it in place even with 3yrs kids down the line..She is back in the limelight and enjoying every bit of it.
2. Sandra Okagbue
Afrobeats singer Flavour AKA PromProTO Master, is responsible for putting two women on this list. The Afrobeats singer is father of two, one to Anna Banner, the other to Sandra Okagbue who has obviously gotten her body back and flaunts it every day on instagram. Sandra is former face of Delta soap
1. Omotola Jolade
Omotola came through like Bengdendenreg!! Nigerian actress Omotola loves flaunting her famous curves and thick waist. Reason being that she has banging mad  curves even after 3 grown up children. The iconic Nollywood star's sexiness has earned her the name Omosexy.
Joe Budden Sends Social Media In a Frenzy After He Fires Co-Host Rory During Latest Episode of the 'JBP'
It was all good just a week ago, or so fans of the "Joe Budden Podcast" thought.
The popular audio show featuring retired rapper Joe Budden and his now-former co-hosts Rory and Mal is "100000%" over. 
The guys have had their behind-the-scenes issues over the last two months — some of which were vaguely discussed on the podcast. Rory and Mal went on a month-long hiatus but ultimately made their return to the show for an episode titled "The Floor is Yours," but not without an "uncomfortable" conversation about putting business over friendship. 
(L-R) Rory, Joe Budden, Parks and Mal. Photo: @thisisrory/Instagram
Rory and Mal debunked theories from social media and maintained that their issues had nothing to do with money but had more to do with a "respect" thing. All appeared to be well, and the fellas told listeners that they'd be on vacation and return the following week.
On Wednesday, May 12, the newest episode was uploaded and later deleted. Shortly after, a 23-minute version was uploaded once more, which featured Joe going on a tirade against his co-hosts and subsequently firing Rory from the show.
Joe revealed that he hadn't spoken to Rory or Mal since they had initially returned to the show. He said they did hang a bit after the episode, and while Parks interjected that he felt things were back to normal, Joe said he felt otherwise. "To me, it felt like a lot of posturing. There's been a lot of posturing behind the scene," Joe expressed. It appears as though Rory and perhaps Mal as well had an issue with how Joe was running the business. The co-host wanted more access into the behind-the-scenes dealings of their podcast, but Joe reportedly was not having it. 
In audio clippings captured by fans, Joe stated, "You n-ggas ain't brought sh-t and got the nerve to have y'all f-cking representation that ain't been around in six-years hit Ian's, who is Joe's manager, phone about something. I won't say what I want to say, but y'all will not continue to treat me this way."
Joe then went on to address Rory, stating, "We gonna do this since Rory thinks he has so many options here, he somehow feels like he's still running the show. He still feels like he has choices and options. He feels like he's entitled to more. Rory, you are in breach of your contract, and from this point forward, you are fired, and you are not welcome back."
Joe later went on to say that "Rory and Mal can go start another podcast, well no, they can't by contract 'cause if they do, I'm going to sue the f—ing pants off of them."
"Rory and Mal can go start another podcast, well no they can't by contract cause if they do I'm going to sue the fucking pants off of them" pic.twitter.com/ltiz2k9VJu— The Joe Budden Podcast Memes (@BuddenPodMemes) May 12, 2021
Reactions to the latest developments have been mixed. Fans, especially those who've been listening since the show's premiere, were disappointed to hear the podcast was officially over, with Joe confirming it on Twitter, stating, "Helluva run!! God bless."
Others deemed the producer to be a hypocrite for not practicing what he preached daily on the show. "Joe Budden was on countless podcast episodes talking about ownership and being knowledgeable of your deals, bucking the system etc." That person added, "Then got mad at Mal and Rory for trying to do these things. Lmao."
Joe Budden was on countless podcast episodes talking about ownership and being knowledgeable of your deals, bucking the system etc. Then got mad at Mal and Rory for trying to do these things. Lmao.— positivi-Dee (@positivi_Dee) May 12, 2021
That man barked on Yachty until he was literally red in the face for not knowing the specifics of his deal and then fired Rory and Mal when they wanted to know the specifics of their deal. He a wild nigga 😭— America is musty 2021 (@DragonflyJonez) May 12, 2021
the joe budden issue with rory and mal reminds me of the pussycat dolls situation, if nicole scherzinger is writing all the songs and doing all the work bringing in the money how you start making demands and shit about money, I know it's more than but still, y'all be safe pic.twitter.com/XbIkvSVrsN— just a regular guy (@dubbingtonknows) May 12, 2021
As they say, all good things must come to an end, and it appears the "JBP" has reached its finish line. There is only a 23-minute clip available to listen to; the rest of the show can be accessed through the paid subscription service, Patreon. Neither Rory nor Mal have addressed the controversy.
'The Nerve': Joe Budden Sends Social Media In a Frenzy After He Fires Co-Host Rory During Latest Episode of the 'JBP'
TSR STAFF: Christina C! ___________ TSRPolitics: As the country gradually moves toward reopening to full capacity, President JoeBiden is urging U.S
TSR STAFF: Christina C! @cdelafresh
___________
TSRPolitics: As the country gradually moves toward reopening to full capacity, President JoeBiden is urging U.S. companies to increase their wages so that Americans can get back to work.
___________
As outlined in his job creation plan, Biden said his administration will distribute more of the coronavirus relief funds to help businesses hire more workers, but in order for Americans to get back to work, Biden is essentially reinstating a pre-pandemic unemployment policy that would require they accept "suitable" jobs.
___________
"We're going to make it clear that anyone collecting unemployment who is offered a suitable job must take the job or lose their unemployment benefits," Biden said at a White House press conference.
___________
He added that he did not "see much evidence" that these federal unemployment checks have deterred people from going back to work and said "Americans want to–click the link in our bio to read more. 📹: @cbsnews
Video: Baby girl was really convinced the word "condiments" was a bad word (:
Video: Baby girl was really convinced the word "condiments" was a bad word 😂😂 (📹: @the_arielb)