The 15 Hottest Mums In Nigeria Entertainment Industry — #1 Still Banging After 4 Children
When you hear Viralmula.com just made a list of The 15 Hottest Mums In Nigeria Entertainment Industry you are Amazed and your interest piqued because it is hard for a woman, mostly an African one at that from Nigeria to keep that body tight and banging after giving birth, the pressure is even heightened on our female celebrities who are in the limelight.
We live in days of womb watchers pre-pregnancy and body police post pregnancy so our female celebs have been putting in work to look good and avoid ridicule and body shaming after putting to bed, well let's get down to our count down of  The 15 Hottest Mums In Nigeria Entertainment Industry, shall we?
15. Adaeze Yobo
Adaze or Mama yobo as shes called by friends  is one of the hottest moms out there now and shes also a former beauty queen
Adaeze is married to former Super Eagles captain Joseph Yobo and they have two kids together.
TOP TEN NIGERIAN BACHELORS IN ENTERTAINMENT
14. Annie idibia
The actress' has maintained her slim figure /shape  with time and she has successfully granted herself a placeon our listt as a hot yummy mummy!No wonder2faceis nothing satisfied with amaka this days.  these days.
13. Waje
If you were walking down your street and someone told you this Edo pretty songstress was 36yrs and has been a mother for the last 15yrs you won't believe, well our most beloved waje single handledly raised her 16yrs old daughter, she kept her voice nice and her curves banging, shes the real MVP Ooo
12. Genevieve Nnaji
Genevieve a mother for over  20 years, has kept it pushing and kept the bars high .While the rest of the world continue to look for a picture of her daughter, we will continue to in wizkids voice wonder wonder ahh in Genevieve's hotness!
11. Venita Akpofure
VenitaVenita Venita , who can forget this sweet video vixen that was the hottest thing since fried rice years ago, she was in almost every wizkid video back in the days , well she put to bed some years back and her body has remained banging she even gained some nice extra meat around the relevant areas .
Some of you might sit there and argue that all na genes which makes it all easy but we have to admit, all we care about is how amazing the hot mama has managed to become after birthing her baby, And that is what makes her a hot mom.
10. Lola Omotayo
Forget all that age difference talk that the public like to steer towards when this pretty woman's name pops up in a conversation, the woman is absolutely hot and there is no arguing that.
Note: Lola and Peter Okoye have two kids together Except you're saying the sun is not hot and it snows in Naija. You're not? Great, because this woman right here is one of the sexiest moms ever.
8. Caroline Danjuma

Baby Mama drama is not the only thing  Mrs Danjuma goes hard on. The mother of three also goes hard on that body of hers. Think curvy, think Caroline. Think sexy, think Caroline. Think MILF, think Caroline. Can I get an OsheyMi Lordey  in the house?

7. Tiwa Savage
Star boy dey here for you!! Lets forget the recent filings with wizkid, her amazing songs, the stupidity of her ex-husband, one thing we cannot forget is tiwas post-baby body , we are amazed at how she lost all the fat and belly in  a few months after putting to bed althouh we know teebillz lagoon stunts contibuted to hit we are still amazed joor.
Tiwa is definitely  worth her place on this list.
6. Busola Dakolo
Busola Dakolo is banging , after 3kids for timi dakilo she has maintained a sweet 16 figure, her husband tm i dakolo even admitted she was his inspiration for his hit track iyawo mi
No wonder Timi Dakolo sang his brains out for her in his hit song/music video, Iyawo Mi. It is good to appreciate good things.
5. Anna Banner
http://viralmula.com/2019/03/deadbeat-dad-offsets-baby-mama-shya-lamour-calls/
Another ex-beauty queen on our 15 hottest mum involved in Nigerian entertainment business. Anna is only 20 years old and is a mother… As a beauty queen she has done her best to get her body back.
We expect to see her to grace magazine cover speedy soon. I mean look at that body!
4. Juliet Ibrahim
The list of thick curvy Naija Actresses is not complete if her name is not mentioned, well she is a mother of one and has painstakingly maintained her figure 8 shape over the years
She broke off her wedding to Kwadwo Safo Jnr. in 2013
3. Mercy Johnson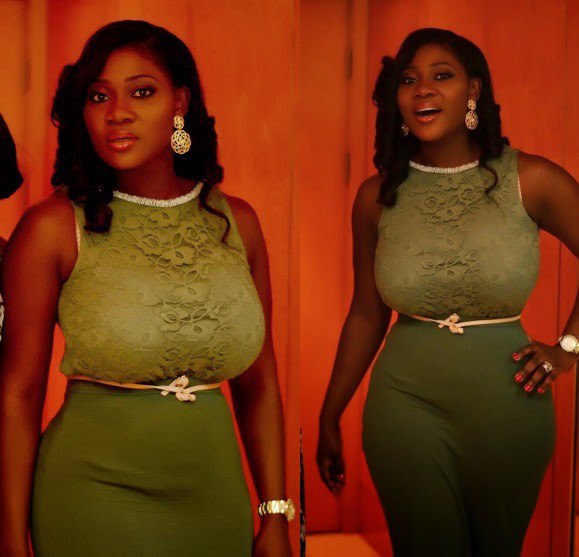 After getting married a couple of years back to an Edo prince and relocated to Edo state , the kogi born actress known for her thickness has managed to maintain her banging figure and keep it it in place even with 3yrs kids down the line..She is back in the limelight and enjoying every bit of it.
2. Sandra Okagbue
Afrobeats singer Flavour AKA PromProTO Master, is responsible for putting two women on this list. The Afrobeats singer is father of two, one to Anna Banner, the other to Sandra Okagbue who has obviously gotten her body back and flaunts it every day on instagram. Sandra is former face of Delta soap
1. Omotola Jolade
Omotola came through like Bengdendenreg!! Nigerian actress Omotola loves flaunting her famous curves and thick waist. Reason being that she has banging mad  curves even after 3 grown up children. The iconic Nollywood star's sexiness has earned her the name Omosexy.
71% of nursing homes not assessed for quality, safety during COVID
The COVID-19 pandemic has resulted in a vast majority of nursing homes nationwide not being assessed to ensure they meet federal quality and safety requirements, a new HHS study found.
State agencies, acting on behalf of CMS, are mandated to complete on-site inspections at least every 15 months, but CMS suspended those inspections between March and August of 2020 to reduce the risk of surveyor transmission.
Despite states being able to resume surveys toward the end of 2020, the pause resulted in a significant backlog. In an analysis of CMS data, HHS found that 10,913 of 15,295 nursing facilities—71%—had gone at least 16 months without a standard survey as of May 31, 2021.
Backlogs ranged from 22% of nursing homes in New Mexico not being surveyed to 96% in Connecticut.
Another issue is that the federal government prioritized surveys focused on infection control during the pandemic, conducting nearly 40,000 more in 2020 than in the prior two years, according to the American Health Care Association and National Center for Assisted Living.
"We were facing a global emergency where front-line staff needed to focus all their energy on protecting our most vulnerable," AHCA/NCAL said in a statement.
Although it was understandable earlier on in the pandemic to shift to infection control surveys, Joyce Greenleaf, HHS' regional inspector general in Boston, said the backlog is now alarming as families cannot be sure if their loved ones are safe in nursing homes or if quality requirements are being upheld.
HHS' December 2020 report found that states also faced backlogs of nursing home surveys earlier on in the pandemic, with 8% of nursing homes having gone at least 16 months without a standard survey as of June 2020.
Infection control surveys are only required to happen at 20% of nursing homes based on states' discretion, said Danielle Fletcher, HHS deputy regional inspector general in Boston, and mostly collect data that identifies facility and community risks.
"It's not a substitute for a comprehensive survey that covers a lot of territory," Fletcher said. "[Standard surveys are] CMS' main tool to ensure minimum standards are met."
The COVID-19 pandemic is continuing to hit this sector hard, with 94% of nursing homes experiencing staff shortages and nearly 75% saying that their workforce situation has worsened in the past year, according to an AHCA/NCAL survey.
The group also found that 66% of nursing home providers expected to potentially close in 2021 due to small profit margins, losses and cost increases in areas such as staffing.
More than 78% of nursing facility residents and 56% of staff are currently vaccinated according to Medicare data, although large disparities in vaccination rates exist between states.
TreySongz has a question for all the R&B lovers out there! BrunoMars
TreySongz has a question for all the R&B lovers out there! BrunoMars
Another wave of students may opt out of college this fall
As the delta variant drives new Covid cases across country, the pandemic's economic impact continues to weigh heavily on college enrollment.
Now, with another class of undergraduates set to start classes in the fall, families are once again struggling with the cost.
Nearly two-thirds of parents, or 63%, said their child's post-high school plans have returned to what they were before the global pandemic, according to a report by Discover Student Loans.
But of those who have changed their college plans, most said they will now go to a school closer to home, attend an online university or go to a less-expensive alternative.
More from Personal Finance:
College plans rebound although cost is a top concern
Hundreds of colleges say Covid vaccines will be mandatory
Colleges and unvaccinated students are set for a standoff
Research shows these students are primarily from low-income backgrounds, students of color and first-generation students — also hardest hit by Covid.
Half of the students who are not attending college or enrolling in a career and technical education program would have attended if they had received adequate financial aid, according to another recent report by the Horatio Alger Association.
Four in 10 students need more financial aid than they did before the pandemic, and 1 in 7 students who did not previously require aid need it now, the nonprofit organization found.
Of the students who are pursuing further education and received a scholarship, 70% said it was a deciding factor in their ability to enroll.
"Cost was the No. 1 problem I had.

Mariah Jimenez

recent high school graduate
"Cost was the No. 1 problem I had, because I knew my family wouldn't be able to help," said Mariah Jimenez, 18, a recent high school graduate from Albuquerque, New Mexico.
"All of senior year, I was scared I wouldn't have enough to pay for college," she said.  
When Jimenez found out she was a recipient of a $25,000 scholarship through Horatio Alger, "I cried," she said.
In September, Jimenez will begin her freshman year at Southern Utah University and plans to study nursing. "I am extremely excited," she said.
When Covid brought the economy to a standstill, one-quarter of last year's high school graduates delayed their college plans, according to a separate survey from Junior Achievement and Citizens, largely because their parents or guardians were less able to provide financial support.
Although about 40% of parents said their ability to help pay has improved since this time last year, 63% remain concerned about having enough money for higher education, Discover also found.
The vast majority of students and their families still say college is well worth it, despite the rising cost. And yet, it is increasingly out of reach.
Tuition and fees plus room and board for a four-year private college averaged $50,770 in the 2020-21 school year; at four-year, in-state public colleges, it was $22,180, according to the College Board, which tracks trends in college pricing and student aid. 
When adding in other expenses, the total tab can be more than $70,000 a year for undergraduates at some private colleges or even out-of-state students attending four-year public schools.
"If we want more students from diverse backgrounds to consider furthering their education, we must ensure that they have access to the necessary resources to help pay for it," said Terrence Giroux, executive director of the Horatio Alger Association.
On Thursday, the U.S. Department of Education said it will provide an additional $3.2 billion in emergency grants to help under-resourced institutions develop programs to engage disconnected students, expand mental health services and improve retention rates.
The current model is unsustainable, according to Lynn Pasquerella, president of the Association of American Colleges and Universities.
"I hope this provides the impetus for reimagining higher education and addresses the racial and economic segregation," she added. "I don't think the answer is to deny access to those at the lowest economic rungs."