When you hear Viralmula.com just made a list of The 15 Hottest Mums In Nigeria Entertainment Industry you are Amazed and your interest piqued because it is hard for a woman, mostly an African one at that from Nigeria to keep that body tight and banging after giving birth, the pressure is even heightened on our female celebrities who are in the limelight.
We live in days of womb watchers pre-pregnancy and body police post pregnancy so our female celebs have been putting in work to look good and avoid ridicule and body shaming after putting to bed, well let's get down to our count down of  The 15 Hottest Mums In Nigeria Entertainment Industry, shall we?
15. Adaeze Yobo
Adaze or Mama yobo as shes called by friends  is one of the hottest moms out there now and shes also a former beauty queen
Adaeze is married to former Super Eagles captain Joseph Yobo and they have two kids together.
TOP TEN NIGERIAN BACHELORS IN ENTERTAINMENT
14. Annie idibia
The actress' has maintained her slim figure /shape  with time and she has successfully granted herself a placeon our listt as a hot yummy mummy!No wonder2faceis nothing satisfied with amaka this days.  these days.
13. Waje
If you were walking down your street and someone told you this Edo pretty songstress was 36yrs and has been a mother for the last 15yrs you won't believe, well our most beloved waje single handledly raised her 16yrs old daughter, she kept her voice nice and her curves banging, shes the real MVP Ooo
12. Genevieve Nnaji
Genevieve a mother for over  20 years, has kept it pushing and kept the bars high .While the rest of the world continue to look for a picture of her daughter, we will continue to in wizkids voice wonder wonder ahh in Genevieve's hotness!
11. Venita Akpofure
VenitaVenita Venita , who can forget this sweet video vixen that was the hottest thing since fried rice years ago, she was in almost every wizkid video back in the days , well she put to bed some years back and her body has remained banging she even gained some nice extra meat around the relevant areas .
Some of you might sit there and argue that all na genes which makes it all easy but we have to admit, all we care about is how amazing the hot mama has managed to become after birthing her baby, And that is what makes her a hot mom.
10. Lola Omotayo
Forget all that age difference talk that the public like to steer towards when this pretty woman's name pops up in a conversation, the woman is absolutely hot and there is no arguing that.
Note: Lola and Peter Okoye have two kids together Except you're saying the sun is not hot and it snows in Naija. You're not? Great, because this woman right here is one of the sexiest moms ever.
8. Caroline Danjuma

Baby Mama drama is not the only thing  Mrs Danjuma goes hard on. The mother of three also goes hard on that body of hers. Think curvy, think Caroline. Think sexy, think Caroline. Think MILF, think Caroline. Can I get an OsheyMi Lordey  in the house?

7. Tiwa Savage
Star boy dey here for you!! Lets forget the recent filings with wizkid, her amazing songs, the stupidity of her ex-husband, one thing we cannot forget is tiwas post-baby body , we are amazed at how she lost all the fat and belly in  a few months after putting to bed althouh we know teebillz lagoon stunts contibuted to hit we are still amazed joor.
Tiwa is definitely  worth her place on this list.
6. Busola Dakolo
Busola Dakolo is banging , after 3kids for timi dakilo she has maintained a sweet 16 figure, her husband tm i dakolo even admitted she was his inspiration for his hit track iyawo mi
No wonder Timi Dakolo sang his brains out for her in his hit song/music video, Iyawo Mi. It is good to appreciate good things.
5. Anna Banner
http://viralmula.com/2019/03/deadbeat-dad-offsets-baby-mama-shya-lamour-calls/
Another ex-beauty queen on our 15 hottest mum involved in Nigerian entertainment business. Anna is only 20 years old and is a mother… As a beauty queen she has done her best to get her body back.
We expect to see her to grace magazine cover speedy soon. I mean look at that body!
4. Juliet Ibrahim
The list of thick curvy Naija Actresses is not complete if her name is not mentioned, well she is a mother of one and has painstakingly maintained her figure 8 shape over the years
She broke off her wedding to Kwadwo Safo Jnr. in 2013
3. Mercy Johnson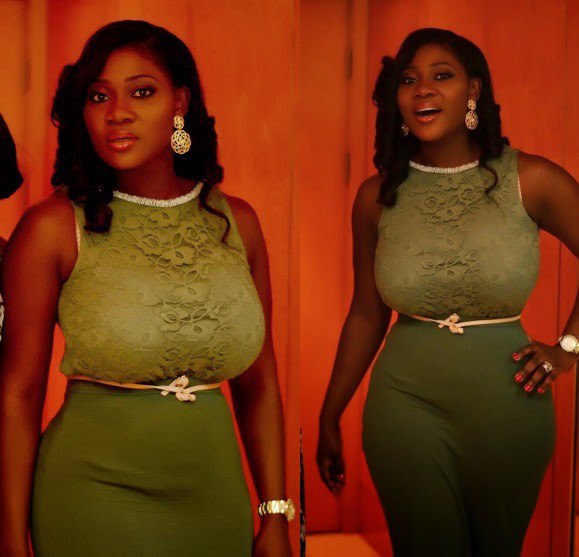 After getting married a couple of years back to an Edo prince and relocated to Edo state , the kogi born actress known for her thickness has managed to maintain her banging figure and keep it it in place even with 3yrs kids down the line..She is back in the limelight and enjoying every bit of it.
2. Sandra Okagbue
Afrobeats singer Flavour AKA PromProTO Master, is responsible for putting two women on this list. The Afrobeats singer is father of two, one to Anna Banner, the other to Sandra Okagbue who has obviously gotten her body back and flaunts it every day on instagram. Sandra is former face of Delta soap
1. Omotola Jolade
Omotola came through like Bengdendenreg!! Nigerian actress Omotola loves flaunting her famous curves and thick waist. Reason being that she has banging mad  curves even after 3 grown up children. The iconic Nollywood star's sexiness has earned her the name Omosexy.