Have you ever pondered on the meaning of SWIFT-BIC and how to How To Fill Nigerian Adsense Payment Details, then this article is targeted at you. This well put together article by Viralmula.Com will tutor you on the practical way to add Gtbank and First Bank payment details TO your Adsense account. You CAN also add UBA, FCMB, Zenith, Fidelity and other bank accounts.
How To Receive Google Adsense Payment With GTbank & First Bank In Nigeria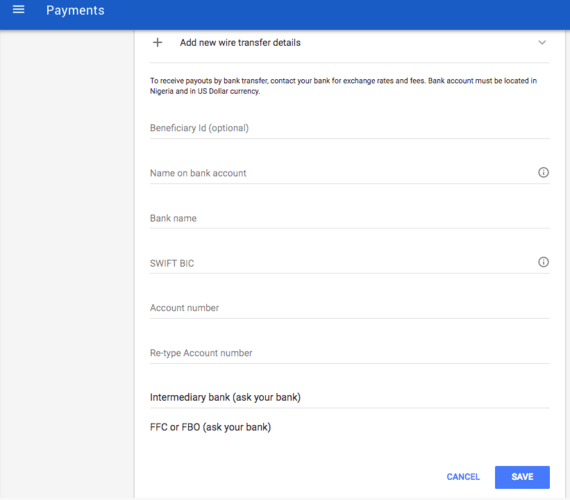 Login to your Google Adsense Dashboard 
Click on Menu and then scroll to payments
Click on Payment
Under how you get paid, click on Add new payment method
Under add payment method in the new page, tick wire transfer
Fill the details below based on the bank you want to use (FBN or Guaranty Trust Bank).
NOTE: FIRST BANK SWIFT BIC is FBNINGLA while for GTBANK GTBINGLA
GTbank
First Bank Nigeria
Beneficiary ID
Leave It blank
Leave It Blank
Name OnAccount
Enter YourFull Account Name
Enter YourFull Account Name
Bank Name
Guaranty Trust Bank
First Bank Of Nigeria
Account Number
Enter YourAccount Number
Enter YourAccount Number
SWIFT BIC
GTBINGLA
FBNINGLA

Intermediary bank name 

(optional),

LeaveBlank
Leave it

Blank
Guys If You Don't Have Up To 500k You Don't Deserve Sex – Nigerian Lady Says
7. That's All, you are done
Frequently Asked Questions In Google Adsense Payment Method
A. What is SWIFT-BIC?
A SWIFT-BIC, often just called BIC, is an 8 or 11 character identification code for a particular bank.
What it looks like: Your bank's SWIFT-BIC may be printed at the top of your bank statements. If you cannot locate it, contact your bank to get their code.
What it's for: Banks use SWIFT-BICs when they transfer money or send a message to another bank.
B. What is Intermediary SWIFT-BIC?
SWIFT Bank Identifier Code (BIC)
A SWIFT-BIC is a unique identification code for your bank's intermediary bank or branch. It should contain 8 or 11 characters. For more details, contact your bank.
C. Can I Receive Google Adsense Payment With My Nigeria Naira Account?
A very BIG YES TO THAT!! You are also allowed to use a domiciliary account. See how to create a domiciliary account here.